Crew Profile: Greg Eckart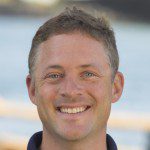 PVS Member Since
PRIMARY DUTY:
OTHER RESPONSIBILITIES:
Greg first became involved with PVS in 2009 through a friend helping at dry dock and sailing. To him, Hōkūleʻa is a powerful symbol of community, faith, and perseverance, as well as a platform for demonstrating the value of traditional wisdom in an evolving world.

On the canoe, Greg serves as Rescue Swimmer, Carpenter and Medical Assistant. On a voyage, he most looks forward to evolving as a crewmember, supporting Hōkūleʻa and ensuring a safe voyage. The most challenging part, for him, is being away from his yellow lab, Duke, and being away from the 'country' in Waimanalo. While back on land, Greg enjoys paddling, surfing, hiking and planting.
Crewmember Roster