Crew Profile: Tom Cunningham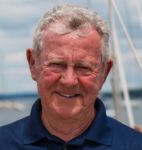 PVS Member Since
PRIMARY DUTY:
OTHER RESPONSIBILITIES:
In 2009, Tom first sailed on Hōkūleʻa, which to him means the rebirth of the Hawaiian Culture. Through the Worldwide Voyage, he hopes that Hōkūleʻa will inspire the youth of the world to mālama honua.

When out at sea, Tom most craves ice cream. While back on land, he misses the solitude of the open ocean.
Crewmember Roster