Crew Profile: Pomai Bertelmann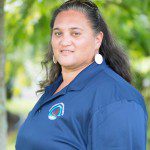 PVS Member Since
HOMETOWN:
Honolulu, Hawaii
PRIMARY DUTY:
Education Specialist
OTHER RESPONSIBILITIES:
Cultural protocol and crewmember
Pomai was born and raised on the island of Hawai'i. Her family has been part of Hōkūle'a's legacy from her inception. Pomai has been a ritualistic member of Polynesian Voyaging Society since 2000. Her family and the community of Hawai'i is responsible for the building of the double-hulled voyaging canoe Makali'i, 54ʻ double-hulled voyaging canoe used to educate communities around the globe about voyaging traditions and the responsibility that we carry as voyagers to respond to the needs of the sustainability of our people and the earth. In 2007, Nā Kālai Waʻa and 'Ohana Wa'a completed the building of the Alingano Maisu, the voyaging canoe built for Papa Mau Piailug as gesture of gratitude for his selfless efforts of reconnecting with deep-sea knowledge and ways of knowing.

Pomai is one of the founding members of the ʻOhana Waʻa and is part of the design and implementation team for the ʻOhana Waʻa, 'Imi Naʻauao Crew Training experiences that train members of all the voyaging groups both in Hawai'i as well as internationally in the traditions of wa'a. These events happen annually, enabling skills to be developed and fine tuned that support the crew pool of the current Mālama Honua World Wide Voyage. She is also a middle school instructor at Kanu o Ka ʻĀina Charter School where students are reared through the cultural lense of project based learning while solving real world issues as 21st century stewards. The environment they live in is their classroom, their community their advisors, and their intuition their guide on their course to solutions. Pomai believes, "When you have a dream or a vision in your mind, through constant pule, instruction, modeling, and practice it happens – it comes to life and it becomes part of you. In working with my students I learn everyday to trust in my abilities in the Kanaloa. It is my job to be the best that I can be physically, to remember that I am a student of the environment, for the environment, and for my kupuna. I am constantly reminded that my actions will be represented by my students, so how I do what I do in their presence is the most essential component of my relationship with them."

Over the past eight years, Pomai has served Nā Kālai Wa'a as the Project Coordinator for the Kūlia I Ka Pono summer enrichment program that serves over 150 students annually from Hawai'i and abroad. This partnership between Nā Kālai Wa`a and KS Enrichment emphasizes the values contained within the ʻōlelo no'eau "He wa'a he moku, he moku he wa'a", your canoe is your island, your island is your canoe especially because it helps students, teachers, and community members to understand their role and kuleana to mālama their island, their community, and their 'ohana. More recently, she served as an advisor the PVS A'o Hawai'i Teacher training cohort.

Since 1995, Pomai has sailed multiple deep sea voyages on the canoes Makali'i, Hōkūle'a and the Alingano Maisu making passages between Hawai'i, Tahiti, Majuro, Federated States of Micronesia, Yap State, Samoa, Tonga, Japan and New Zealand. Most recently Pomai served as the education specialist and protocol officer on the World Wide Voyage leg 5 from Samoa to Vavaʻu and Tongatapu to Aotearoa.

Crewmember Roster