Crew Profile: Matt Kanemoto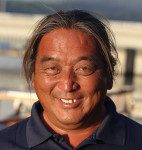 PVS Member Since
HOMETOWN:
Waialae Nui, Oʻahu
PRIMARY DUTY:
OTHER RESPONSIBILITIES:
Matt is the Agriculture and Natural Resources teacher at Kahuku High and Intermediate School, where he teaches keiki to take care of the land and ocean. For Matt, Hōkūleʻa offers an opportunity to participate in something that is beyond oneself for the future keiki of Hawaiʻi. Through the Worldwide Voyage, Matt hopes that Hōkūleʻa can share with the world how we mālama 'āina here in Hawai'i and learn new ideas for a more sustainable Hawai'i.

Out at sea, Matt misses warmth as he is often wet and cold. Back on land, Matt misses being part of an adventure and having the honor of representing Hōkūleʻa.
Crewmember Roster