Crew Profile: John Webster Thatcher (Jacko)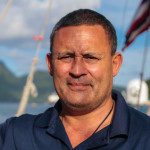 PVS Member Since 1994
HOMETOWN:
Tauranga Moana, Aotearoa, New Zealand
PRIMARY DUTY:
Maori Cultural Representative
OTHER RESPONSIBILITIES:
Pwo Navigator
Jacko Thatcher from Tauranga Moana, Aotearoa, New Zealand. Jackoʻs first involvement with Hōkūleʻa was in 1992 in Rarotonga and he was a crewmember aboard Te Aurere on her maiden voyage to Rarotonga.

Jacko hopes that while aboard Hōkūleʻa he can help educate and inspire people to realize the plight of our oceans and that sustainability and worldwide protection is the only way to secure our future generations.

After this leg of the voyage, Jacko will miss the sunrises, sunsets, the fish, the camarade and the exhilaration of finding the islands and reconnections with the communities.

Crewmember Roster