Crew Profile: Kazu Nishimura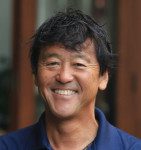 PVS Member Since
PRIMARY DUTY:
Sail Master
OTHER RESPONSIBILITIES:
Kazu first sailed on Hōkūleʻa in 2001 from O'ahu to Maui. For him, Hōkūleʻa represents the bridge between ancestors and descendants. While sailing on the Worldwide Voyage, he hopes that he can find ways to hand down to the next generation what he has been given from Hōkūleʻa and voyages on her.

While out at sea, he seeks to know who he is, and what he should do for the next generation after the voyage. While back on land, he misses the peaceful quiet in which to have a dialogue with himself.
Crewmember Roster