Crew Profile: Kekama Helm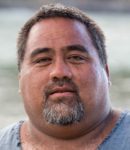 PVS Member Since
HOMETOWN:
Kaunakakai, Molokaʻi
PRIMARY DUTY:
OTHER RESPONSIBILITIES:
In 1999, Kekama sailed on Hōkūleʻa to the Marquesas, which was a big deal for him coming from Molokai. He believes that the most important part of the voyage was making connections and ʻohana near and far. Through this voyage, he learned that we all have kuleana at home and there is a need for us to take care of that kuleana.

While back on land, what Kekama misses most about voyaging in the ʻohana and community - he craves the solidarity of his ʻohana waʻa.
Crewmember Roster