Crew Profile: Jesse Yonover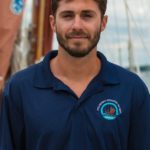 PVS Member Since
HOMETOWN:
Maunalua, O'ahu
OTHER RESPONSIBILITIES:
Jesse first sailed on Hōkūleʻa during the Statewide Sail in 2013. To Jesse, Hōkūleʻa means many things, including a bridge that connects the people of Hawai'i to its indigenous origins as well as a platform to embody the most evolved ways of thinking and living on earth. Jesse hopes that the Worldwide Voyage will help to bring about a deeper understanding, in Hawai'i and abroad, of how we are all connected to each other and the natural world that sustains us.

While sailing, Jesse most craves Chocolate ice cream but back on land Jesse misses the peacefulness of being out in nature.
Crewmember Roster