Crew Profile: Matahi Tutavae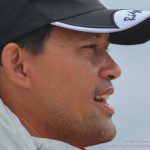 PVS Member Since
HOMETOWN:
Papeete, Tahiti
PRIMARY DUTY:
OTHER RESPONSIBILITIES:
Matahi was born and raised in Tahiti and Moorea, and first sailed on Hōkūleʻa in 2010. To Matahi, and he believes a lot of Tahitians, Hōkūleʻa has opened up the path to regaining and applying ancient knowledge and serves as one of the cornerstones of cultural renaissance in Tahiti. Matahi hopes that the Worldwide Voyage will both spread the message of Mālama Honua and offer opportunities for many to sail on Hōkūleʻa.

While sailing, Matahi craves new experiences and lessons from the wa'a (canoe), crew, and nature. When back on land, he often reflects on the voyage and misses being close to the ocean and sky.
Crewmember Roster