Crew Profile: Lee Donahue Jr.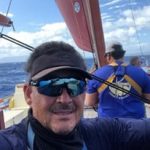 PVS Member Since
HOMETOWN:
Honolulu, Oʻahu
PRIMARY DUTY:
OTHER RESPONSIBILITIES:
Lee Donahue Jr. from Honolulu, Oʻahu, was raised on and in the water of Hawaii Kai and loves to partake in all things ocean related, including fishing, diving, body surfing and boarding, power boating, water skiing and more. He is retired from the Honolulu Police Department and with that experience assisted with the Mālama Honua voyage by taking care of security, threat assessments, and logistical needs around the world. He also assisted with crew preparations and arrival in Rapa Nui during the WWV and facilitated security needs for Mālama Honua homecoming. In 2018 he started escorting Hōkūleʻa and Hikianalia and in 2020 started sailing and was selected as a crewmember with PVS.
Crewmember Roster