Crew Profile: Kaʻohi Kamalu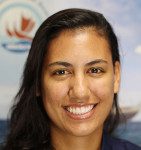 PVS Member Since
HOMETOWN:
Kāneʻohe, Oʻahu
PRIMARY DUTY:
OTHER RESPONSIBILITIES:
Kaʻohi first had the opportunity to sail on Hōkūleʻa in 2009 while taking a non-instrument navigation course. For her, Hōkūleʻa has brought a new level of awareness to sustainability and taking care of our oceans. Through the Worldwide Voyage, Kaʻohi would like to see more people nuture the fact that our survival is dependent upon the relationship that we have with our environment.

While out at sea, misses very little because the cooks are so good - but she would probably go for a gourmet cheeseburger with all the fixings. Back in everyday life, Kaʻohi misses the wild aspects of being out at sea and the soothing absence of lights and buildings. The open ocean provides her with the opportunity to see the world as her ancestors did without today's modern day developments.
Crewmember Roster